Jeholosaurus appears on the episode Feathered Dragons. These creatures were omnivores. A family of Jeholosaurus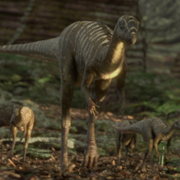 are attacked by a pack of Sinornithosaurus. The mother is killed and eaten.
Facts
The describers did not assign Jeholosaurus to any family, limiting themselves to a placement as Ornithischia incertae sedis. Using the comparative method, they pointed out some similarities to basal Euornithopoda: a small antorbital fenestra. It may have been an ancestor to Iguanodon. Jeholosaurus was seen for not very long as a mother took her three offspring through a lush vegetation forest, before the mother was killed by two Siornithosaurus.
Planet Dinosaur Database and Mentioned Creatures