Irritator challengeri (meaning "irritating Dr Challenger") was a spinosaurid dinosaur from early Cretaceous Brazil during the Albian period. It was probbably about 8 metres in length. It is a close relative of the much larger Spinosaurus. It is known from a partial skull, which had been modified by the fossil traders who illegally sold it. The name Irritator comes from the frustrating task of restoring it that had to be done. This genus may be synonymous with the closley related spinosaur Angaturama, which curiously seems to complete Irritator's skull, suggesting that they may in fact be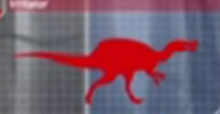 parts of the same specimen.
Episode 1:  Lost World
Irritator was seen in a database scene with Baryonyx, Siamosaurus and Spinosaurus as an example of a spinosaur from South America; and how the spinosaurids were more diverse and generalist eaters rather than sustaining just on fish.
Planet Dinosaur Database and Mentioned Creatures