Chlostridium botulinum is a pathogenic bacterium that flourishes in rotten food. Although it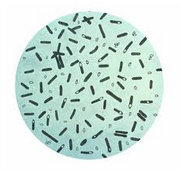 still occurs, it is rare today, and is thought to have been around when dinosaurs were the dominant vertebrates. It induces powerful paralysis and is often fatal, even today.
Chlostridium botulinum makes an appearance in episode six, The Great Survivors. Here it is seen to be found in the rotten corpse of a tyrannosauroid. The carcass is then eaten by several other tyrannosaurids, who all then contract the pathogen as well and all perish too.
Planet Dinosaur Database and Mentioned Creatures