Centrosaurus was a large ceratopsian with a large nose horn that reached up to 3 feet (0.9 metres) in length. It lived in late cretaceous Montana and alberta, about 75 to 73 mya.
FACTS
At 6 metres (20 feet) long, 1.8 metres (6 feet) tall, and weighing around 3 tonnes Centrosaurus was a medium sized ceratopsian. It shared it`s enviroment with Chasmosaurus, Daspletosaurus, Gorgosaurus, and more large dinosaurs. It's related to Triceratops.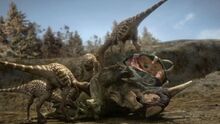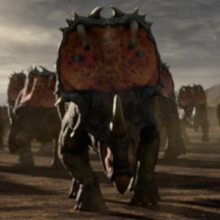 It also made annual mass migrations to their nesting grounds.
Planet Dinosaur Database and Mentioned Creatures